Quentin Crisp was one of our most cherished satirists and commentators. Immortalised by John Hurt in the touching film version of his book The Naked Civil Servant, Crisp's flippancy, self-deprecation and theatricality masked a fervent intelligence and a sharp eye for the detail of contemporary English life.

Born in 1908, into a resoundingly ordinary middle class family, Crisp was traumatised by the inequities of a boarding school education in Derbyshire before starting work as a book designer. Thereafter he made his living as a life model, before his autobiography was published in 1968. These recordings of Crisp in New York in 1979 arose as a result of the popularity of the film adaptation of that book, and capture one of 'Britain's stately homos' in garrulous form, delighting an invited audience.

Floridly disclaiming to be simply "a straight talk from a bent speaker," Quentin Crisp's performance piece (or lecture) is full of the celebrity's Wildean witticisms and droll reflections on living as a gay man for much of the 20th century. Patently outrageous and always entertaining, the British-born author, promising "a consultation with a psychiatrist who is madder than you are," holds court as he offers helpful hints, droll opinions and practical advice on such subjects as the avoidance of dreary housework, how to be yourself, and how, generally, to live with style regardless of one's economic situation. His goal is to instruct us on how to be happy.

During the first part of the show, Mr. Crisp explains how he obtained his secrets for surviving and prospering in society. He also discusses his recommendations on how it is possible for everyone to develop a lifestyle and to be happy. Mr. Crisp also answers questions written by members of the audience before the second part commenced.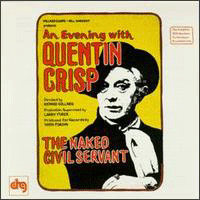 Mr. Crisp's one-man show, An Evening with Quentin Crisp, opened at The Players Theatre in New York City on December 20, 1978, after engagements in New Haven, Toronto and Washington, D.C. He returned to New York in July 1983 to reprise his show at The Actor's Playhouse. This performance was recorded at Columbia Recording Studios on February 22, 1979, in New York.

After more than a two-decade absence, these recordings of Quentin Crisp are available again. Cherry Red's two-cd release also includes a bonus 35-minute unreleased interview with Morgan Fisher. The interview was conducted by Mr. Fisher at Mr. Crisp's bedsit at 129 Beaufort Street in London in June 1980, the one in which he lived for nearly forty years. The package is completed by a series of stunning unpublished black-and-white photographs of Crisp.

Available in the U.S. on August 21, 2007.