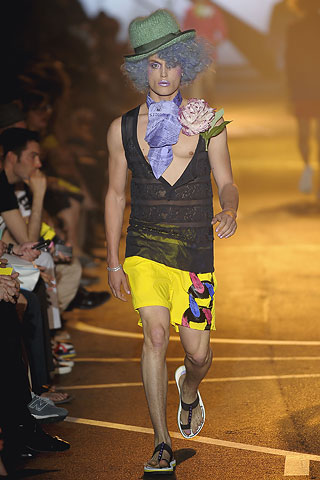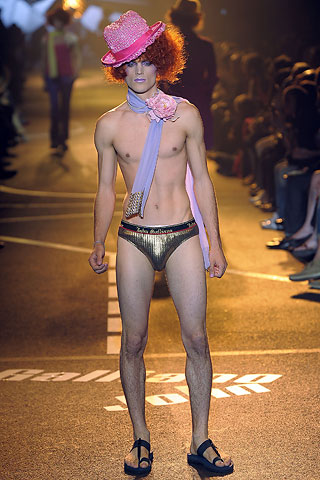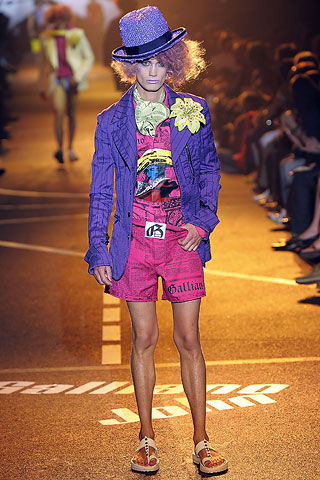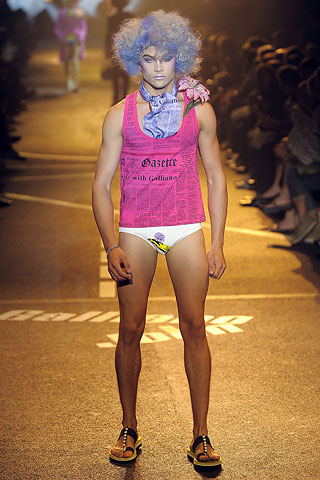 Paris
June 27, 2008
First I received a call from Fairchild's creative director Tom Beebe to inform me that at that moment in time he was witnessing a resurrection of Quentin Crisp on the runway at a fashion show in Paris. Next day he called again and mentioned how otherworldly fantastic the fashion show had been and that information about it would be on its way to The Quentin Crisp Archives postal box.

As it turned out, John Galliano presented his latest men's fashion show for spring/summer 2009 with Sting's "An Englishman in New York" song as soundtrack to his celebration of English dandyism and acknowledgment of Quentin Crisp, the famously gay exile, as his muse for inspiration. Mr. Crisp, author of the greatest gay coming of age autobiography, "The Naked Civil Servant", would have loved this show. Mr. Galliano's presentation was a charming testament to his heroic honesty to celebrate life. Also, Mr. Sting was guest of honor and sat in the front row!

There was a segment on the runway where Galliano was promoting his underwear license. This was staged as a salute to Quentin Crisp, one of the last great English eccentrics. Milliner Stephen Jones created a set of unreal hats. The hair and makeup was done by Julien d'Ys and Pat McGrath, making for a rather glam-rock moment in the experience of the show. The experience was filled with designs for dandies interspersed with feminine, high gloss American chic. Thus, it seems, Galliano's hero was the late, great Quentin Crisp, who appeared in the designer's Galliano Gazette newspaper print dressing gowns, Gurkha kilts and a series of divine wigs, topped by absurdist knit or woven trilby hats in purple or cerulean.

Mr. Galliano sent a cast of characters onto the runway in a "go-cart arena . . . ranging from Brick Lane dandies to arty posh punkers to Indian colonial civil servants who just happen to spend their evenings in Japanese rap clubs." His colorful array of characters peopled the runway's finale, and was said to have looked like someone had "tipped a box of candies on the catwalk. It was almost impossible to absorb the spectacle." And information overload is one of Galliano's most perceptive contributions to the modern fashion lexicon, and he remains fashion's standard-bearer for the original anarchic, anything-is-possible spirit, and continues to unhinge his audience with immeasurable wonder.