In November 2002, French Connection Press launched an anglophone poetry anthology series titled VAN GOGH'S EAR, and has attracted significant worldwide attention. The journal is distributed and sold in France, United Kingdom, Canada, United States, Australia, South Africa, the Czech Republic, Italy, Ireland and Germany.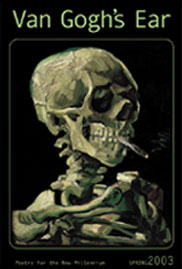 VAN GOGH'S EAR is an anthology series devoted to publishing excellent poetry and prose in English by major voices and innovative new talent from around the globe. Without affiliation with specific movements or schools of poetry, VAN GOGH'S EAR seeks only to publish the best poetry being written. The anthology welcomes all work, from traditional to experimental, daring, thought-provoking poetry of unusual forms and language genius. In this regard, we aim to become a major reference point among poetry publications worldwide.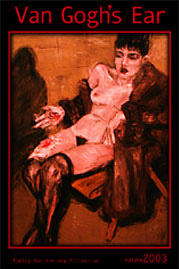 Each volume features the work of over 80 poets; representing the evolution of traditional poetry into a cutting edge future, with poems by such amazing talents as: Maya Angelou, Margaret Atwood, Neal Cassady, John Updike, Norman Mailer, Joyce Carol Oates, Paul Auster, Lyn Hejinian, John Ashbery, Susan Howe, Gary Snyder, Alice Notley, Philip Whalen, Anne Waldman, Bob Rosenthal,
Allen Ginsberg, Sharon Mesmer, John Giorno, Michael Hathaway, Diane di Prima, Robert Creeley, Eileen Myles, Leonard Cohen, Tony Curtis, Serge Gainsbourg, James Dean, Thich Nhat Hanh, Sapphire, David Amram, Amiri Baraka, Bruce Andrews, Antler, Ian Ayres, Louis Armand, Charles Manson, Leslie Scalapino, Billy Collins, Holly Crawford, J.T. LeRoy, John Gilmore, Dawn-Michelle Baude, Lawrence Ferlinghetti, Jean Valentine, Robin Blaser, Mary Burger, Felice Picano, Ruth Fainlight, Jim Carroll, Dennis Cooper, James Kirkup, Denise Levertov, Gary Indiana, Sylvia Miles, Bob Perelman, Marilyn Monroe, Charles Bernstein, Judith Taylor, Tom Raworth, Marilyn Hacker, Yoko Ono, QUENTIN CRISP, Phillip Ward, Ron Silliman, kari edwards, W. D. Snodgrass, Tess Gallager, Aram Saroyan, Daisy Zamora, Taslima Nasrin, Eleni Sikelianos, Richard Kostelanetz, Marc Smith, Thom Nickels, Frank O'Hara, Lyn Lifshin, Tom Clark, Mary Angeline, Charles Baudelaire and many more.

You can susbscribe to VAN GOGH'S EAR and become a part of a growing network of poets and readers around the world. Purchase single copies and subscribe online at www.frenchcx.com (secure site). The continued existence of VAN GOGH'S EAR is dependent on subscriptions and contributions. Please donate and/or subscribe. Thank you!